If you're unsure whether or not you can make a standard bathroom into a resort-worthy bathroom, you need to think again. Just like you would add a touch of class or refined details to any part of your home, you can also accessorize your bathroom. Perhaps you haven't given it much attention, or you've decided to put other aspects of your home first. Whatever it may be, we'll suggest 11 great ways for you to accessorize your bathroom and make it great.
Define your colours
Before you go on a shopping spree, define your colours first. This will help you focus on a colour palette that fits your idea of a perfectly accessorised bathroom. Take into consideration current tile colour and other dominant colours. If you love simple solutions, focus on a two-colour scheme to keep your bathroom stylish, yet simple. If your colour scheme consists of three or more colours, remember this when making a purchase. Focus only on those colours and their shades to avoid a costly mistake.
The towels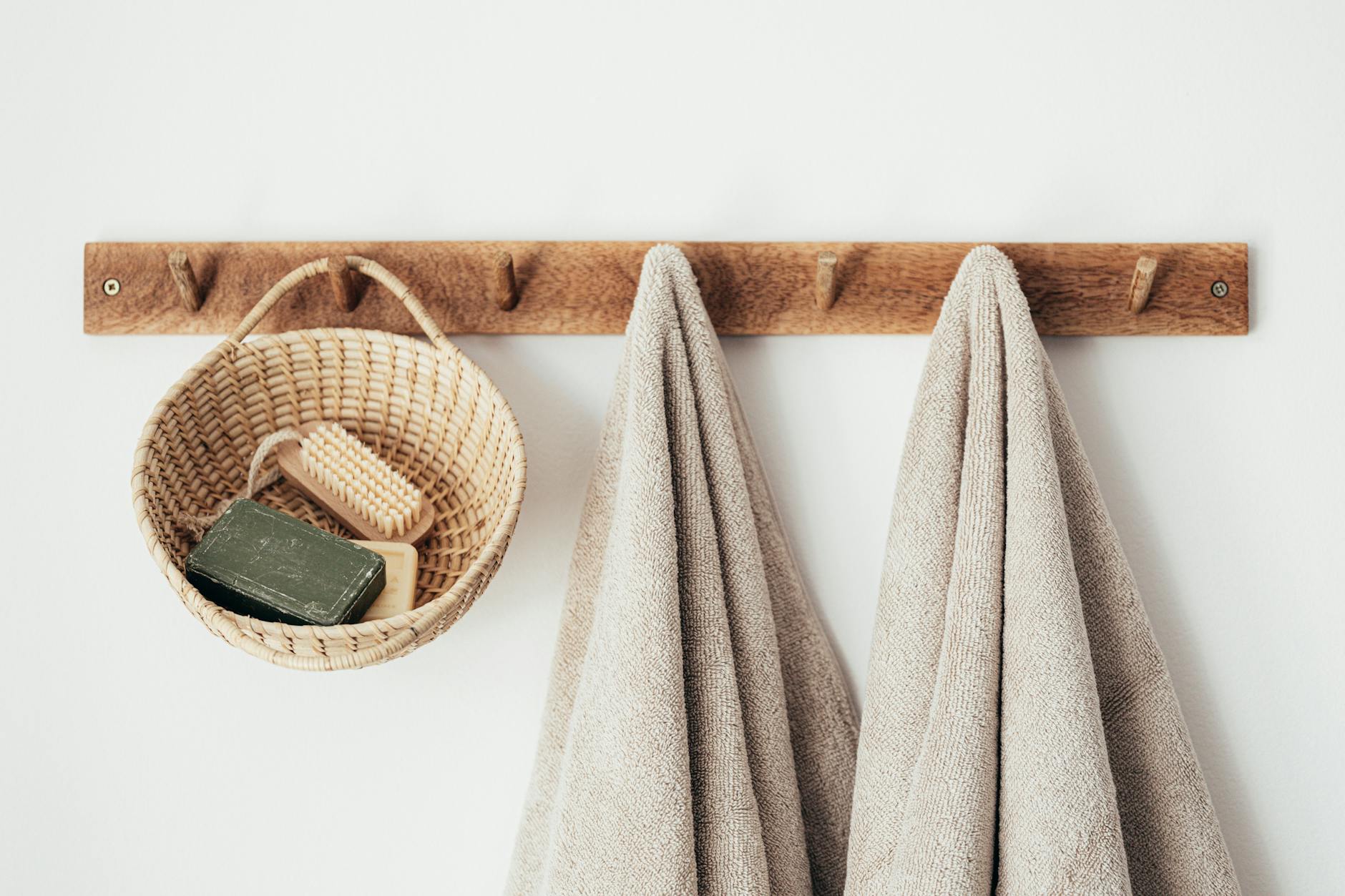 What's a better way to update your bathroom decor than to add some new towels? On that note, when was the last time you updated your towels? If you can't remember, now might be the time to splurge on some new bathroom towels. Try to get a set, so that you can have a consistent colour scheme within your bathroom. You can always have some extra towels on a shelf or within your reach. We're advised to change our towels after using them three times so you should have a steady supply of towels. Each time you get a new set, you will update the vibe of your bathroom with a new colour.
Bathroom mat
Another step you can take is to update your bathroom mats. These provide a soft landing upon getting out of a shower or stepping out of a bath. Since they can easily get wet, you should have at least one replacement, so the first one can get dry. If your bathroom colour scheme is simple, you can open it up with bright or pattened bathroom mats. If you're going for three or more colours, go for the one that fits the best.
Soap dispenser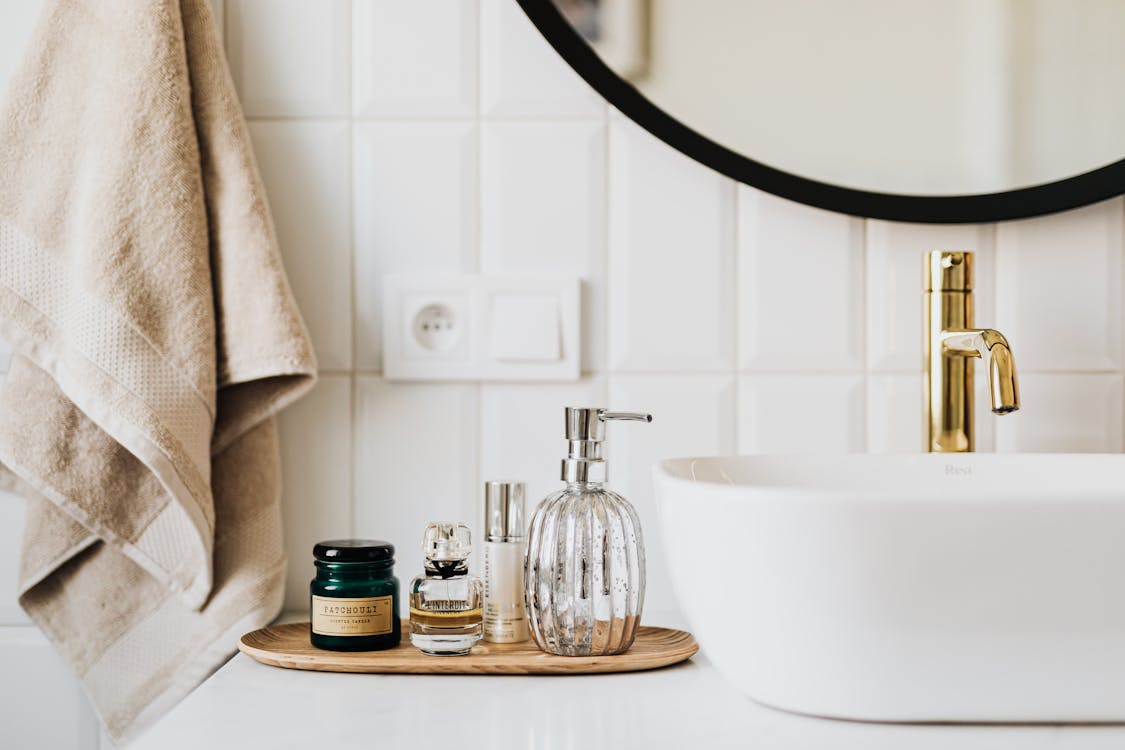 By adding a new soap dispenser or a soap dish, you create a different style in an instant. You can buy a new set or simply change your current soap dispenser. These come in different shades so you'll find a colour that goes well with your colour scheme. Soap dispensers also look quite luxurious because they come in different shapes, sizes and designs.
Toothbrush holder
Since your toothbrush should be placed upright for sanitary purposes, look for the right toothbrush holder. This is also another detail that can easily elevate your bathroom so invest in a new one. You can get a toothbrush holder in the same shade and style as your soap dispenser or go for a set that fits your overall bathroom style. From stainless steel holders to glass, marble and ceramic toothbrush holders, there's one out there that will fit your idea of a well-accessorised bathroom.
Upgrade your fixtures
Changing the bathroom fixtures is a simple way to upgrade your bathroom. If you want to install new bathroom accessories you'll have to change your basin set, bath wall set or a shower set. If your perfect bathroom features black matte fixtures, you can easily upgrade your current fixtures. While you've only updated a few details, they will give your bathroom a whole new look.
Change your shower curtain
Another way to add something new to your existing bathroom decor is to change a shower curtain. If you're going for a simple two colour scheme, simply change the colour of the shower curtain. If your bathroom is black and white and your current shower curtain is white, find either a black curtain or one that is both black and white. If your colour scheme is richer than just two colours, find a colourful shower curtain that instantly lifts your mood.
Add shelves above a toilet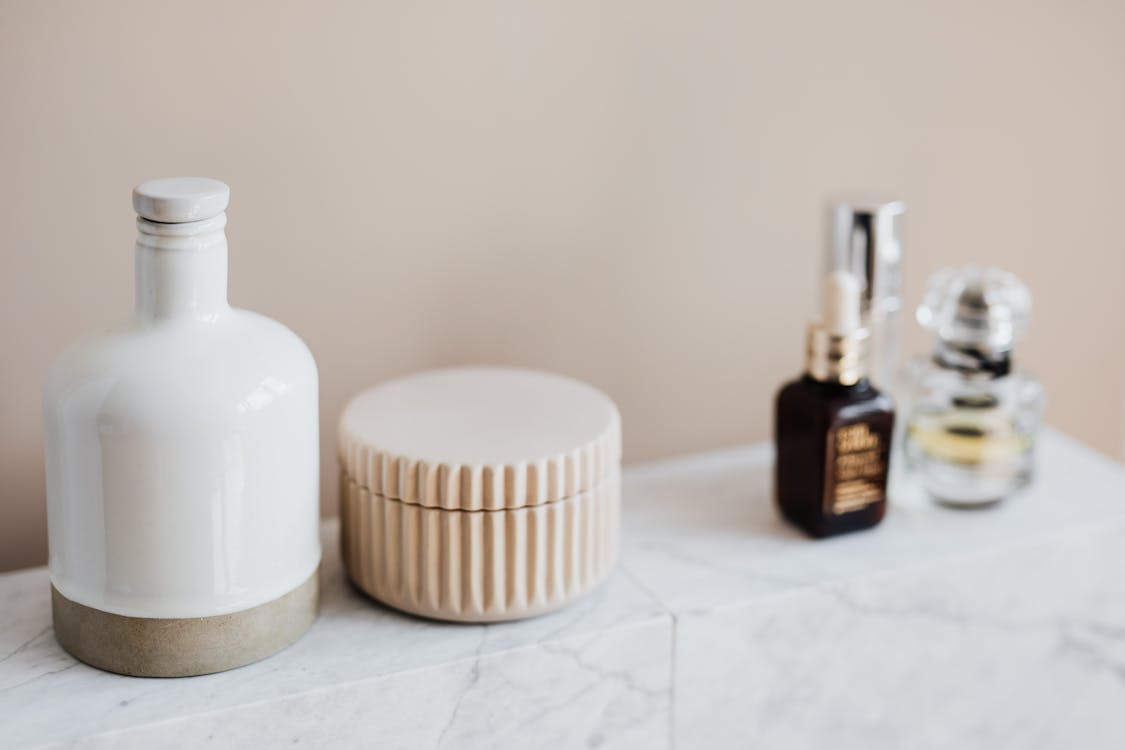 If there's wall space above your toilet, try installing a shelf or a stack of shelves. This will maximize your bathroom space while also increasing storage space. If you only have one shelf, it can be used solely for decoration. You can fill it with scented candles, fresh flowers, boxed Kleenex, or other items, such as a glass box for cotton buds. Once installed, it will undoubtedly serve its purpose.
Bathroom fragrance
We all want our bathroom to smell fresh and clean at all times. While regular hygiene is the number one solution, a bathroom fragrance can be a nice touch as well. Depending on the type of bathroom fragrance, this addition can also be a lovely bathroom accessory. For example, you can place an incense stick holder in the shape of a turtle on your shelf to appear as a decoration and bathroom air freshener. You can also add a diffuser and use your favourite essential oils as an added relaxation technique while you take a bath and as a way to fight odours.
Consider adding plants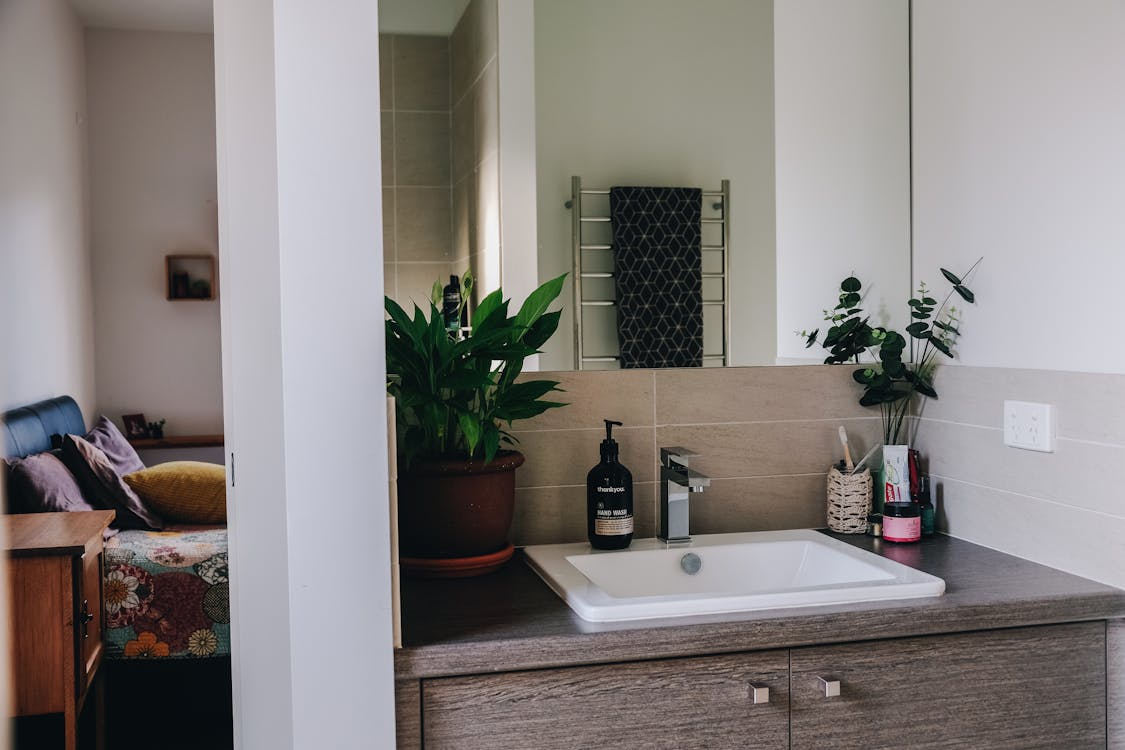 ???????
Simply put - why not? If your bathroom is big enough to accommodate a small green plant, find the best place for it. It will easily add a touch of greenery that is known to soothe the mind and create a more enjoyable atmosphere. Go for a plant that survives under humid conditions and that also purifies the air.
Add a sound system
While it might sound unnecessary at first, it can be a nice touch to your overall bathroom vibe, Especially if you enjoy taking long and relaxing baths you'll want to feel like you're at the best spa. Add a sound system so you'll be able to listen to relaxing music and minimise the risk of dropping your phone in your bath because of wet hands.
Lastly, don't forget to include a window treatment. Even if your window is too small to fix a curtain, you can add some window decals that will blur the view. Also, add a variety of storage solutions to organise your items and keep everything in order at all times. These eleven tips will help you accessorise your bathroom and make it look brand new.