If it is said that email communication is an integral part of businesses, it is 100% true. All businesses including IT, infrastructure, manufacturing, and finance use an email client to manage emails. Some are using cloud platforms while others are using desktop-based email clients. There are businesses using both cloud and desktop-based email clients for data security and sharing reasons.
If you are using Thunderbird, Entourage, WLM, Apple Mail, Eudora, Pocomail, or Netscape, you may be using the MBOX file format to save data. It is a flexible file format that supports 30 plus email clients operating on Windows, Mac, and Linux. MBOX saves in plain text. An MBOX file can hold emails with attachments. MBOX supporting email clients are suitable for you for basic email management features. Advanced email management tools like MS Outlook offer email management and create tasks. Today, thousands of businesses across the globe are using MS Outlook. It is a prominent program for individual users also.
For MBOX file format users, there are some issues that annoy them. Some common issues with MBOX file extension are "no valid MBOX found error" and "next message unexpectedly corrupted in MBOX files." These errors are not easy to deal with, but they have solutions. The article shares the reasons and the solutions for the "next message unexpectedly corrupted in MBOX" error.
Reasons for the Error
MBOX is like other file extensions. It can corrupt or damage without giving warnings. In this condition, you put your data at risk. Emails of MBOX can become inaccessible forever. MBOX stores messages in plain text and on the hard disk. It means your data is safe in the system. If the error is received from MBOX files, there may be system hardware corruption, virus attack, malware, email client crashes, Windows shut down all of sudden, and other possible things.
But you don't need to feel insecure about your data security because solutions are available. There are mainly two ways to consider. One is manual and the other is professional solutions. Let's discover the manual solutions first.
Solution 1- Modify the Header
Under this solution, one needs to learn about the email header and how to modify it through the X-Mozilla-Status-Header of the affected MBOX file. It is easy to get back lost databases. As you have made a modification to rectify your MBOX file if applicable, set the function as "0."
Solution 2- Delete the Index File
There are situations when the modification of the header doesn't seem helpful. There is another option which is deleting the index file. For this, delete the index file from the affected MBOX File. After that, replace the folder by compressing the mails and transferring the messages.
Note- These are two manual solutions. If they don't work, you can look for technical help or can plan to change the email client.
Solution 3- Professional Solutions
If your Mozilla Thunderbird is still displaying "Next Message Unexpectedly Corrupted in MBOX File," it's high time to leave the email client and look for a professional tool. What will be the best choice than MS Outlook? The professional tool is the product of Microsoft. It has been serving for a decade. Microsoft has released multiple versions of MS Outlook. The latest versions are advanced and will be suitable for small to large organizations.
For MBOX conversion to PST, users have two options to consider. One is using manual solutions and the other is an automated conversion. The manual conversion would be wasting of time if you have a bulk of MBOX files. Moreover, the risk of data loss is higher here. Therefore, the best way to transfer all necessary MBOX files to PST is through a third-party program. Softaken MBOX to PST Converter can be an ideal tool to use. The email converter exports MBOX files in batches. There is no file size issue. Users can export as many as they want. The tool manages to export unlimited MBOX files. Its license validity is unlimited. Users can use the app as long as they want.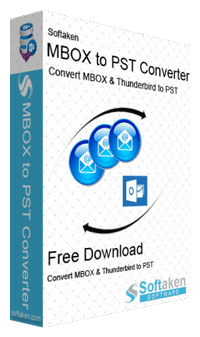 Conclusion
Have you tried any manual solution to fix the error "Next Message Unexpectedly Corrupted in MBOX File" for your MBOX file? Users are now moving to a reliable email client. MBOX supports freeware tools usually. They are not so advanced. If you want to change to a reliable and professional tool, the next generation tools will be Office 365, MS Outlook, and iCloud. For desktop support, an ideal program is MS Outlook. The tool now supports small devices so that businesses can stay in touch with important contacts and emails. Conversion from MBOX to MS Outlook is an ideal solution. For businesses that want not only an email management program but also an advanced tool to manage tasks, MS Outlook can meet their expectations